lemur::parse::BrillPOSTokenizer Class Reference
#include <BrillPOSTokenizer.hpp>
Inheritance diagram for lemur::parse::BrillPOSTokenizer: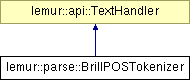 List of all members.
---
Detailed Description
This TextHandler parses tokens that have been put through Brill's POS tagger. This is usually of the format "word/POS". This TH will split the token at the delimiter, send the word as is along the pipeline with the POS added as a Property. TextHandlers further down the chain can access the POS by getting a Property named "POS" from the PropertyList. Generally, this Parser should be chained after a TextHandler tokenizing parser, such as the WebParser, and before sending to Stopper or Stemmer.
---
Constructor & Destructor Documentation
| | | | | |
| --- | --- | --- | --- | --- |
| lemur::parse::BrillPOSTokenizer::BrillPOSTokenizer | ( | | ) | |
| | |
| --- | --- |
| | make a new POSTokenizer with default split character "/" |
| | | | | | |
| --- | --- | --- | --- | --- | --- |
| lemur::parse::BrillPOSTokenizer::BrillPOSTokenizer | ( | char | s | ) | |
| | |
| --- | --- |
| | make a new POSTokenizer with a different splitting character |
---
Member Function Documentation
char * lemur::parse::BrillPOSTokenizer::handleWord
(
char *
word,
const char *
original,
PropertyList *
list
)
[virtual]
| | | | | | |
| --- | --- | --- | --- | --- | --- |
| void lemur::parse::BrillPOSTokenizer::setDelimiter | ( | char | s | ) | [inline] |
| | |
| --- | --- |
| | set a new delimiter character to split into tokens |
---
Member Data Documentation
---
The documentation for this class was generated from the following files:
---
Generated on Tue Jun 15 11:03:06 2010 for Lemur by

1.3.4